Atlanta, GA | October 30, 2023 – Google Maps has indeed evolved significantly over the years, and the introduction of new AI-powered features has enhanced its capabilities for users worldwide. Here's a closer look at these recent additions:
Immersive View for Routes: Google has introduced Immersive View for routes in select cities, allowing users to visualize their journeys in 3D. Whether you're driving, walking, or biking, you can use this feature to explore your route and even use the time slider to plan the best departure time based on traffic and weather conditions.
Exploring Places with AI: Immersive View isn't limited to just routes; it can also be used to explore places. By combining Street View and aerial images with AI, you can preview what a restaurant or landmark looks like before visiting it. Developers can create their immersive experiences using Photorealistic 3D Tiles in Google Maps Platform.
Source: Google
Lens in Maps: This feature, previously known as Search with Live View, utilizes AI and augmented reality to help you quickly understand your surroundings. By tapping the Lens icon in the search bar and lifting your phone, you can get information about nearby ATMs, transit stations, restaurants, coffee shops, and stores. This feature is expanding to over 50 new cities.
Realistic Buildings: Google Maps will soon display more realistic buildings, making it easier to navigate in busy downtown areas. Additionally, on highways, improved lane details will assist with complex maneuvers such as changing lanes to catch an exit. These updates will roll out in multiple countries in the coming months.
HOV Lane Information: In the U.S., Google Maps will inform users about the presence of HOV (High Occupancy Vehicle) lanes on their routes, allowing them to make informed decisions.
AI-Powered Speed Limit Information: In Europe, Google Maps will expand its AI-powered speed limit information to 20 countries, enhancing road safety, especially in cases where speed limit signs are hard to spot.
EV Charging Station Information: For electric vehicle (EV) drivers, Google Maps now provides details about charging stations, including compatibility with specific vehicle models and charging speed (fast, medium, or slow). Users can also see when a charger was last used, helping them avoid non-functional stations. This information will be available globally on iOS and Android.
Source: Google
Integration with Google Maps Platform: The information on EV charging stations will be available to developers through the Google Maps Platform in the Places API, enabling them to integrate real-time data into their websites and apps.
Enhanced Visual Search: Google Maps now offers a more visual and inspiring search experience. When searching for specific things like "animal latte art" or "pumpkin patch with my dog," users will see photo-based results generated through AI and image recognition. This feature is rolling out in several countries and will expand over time.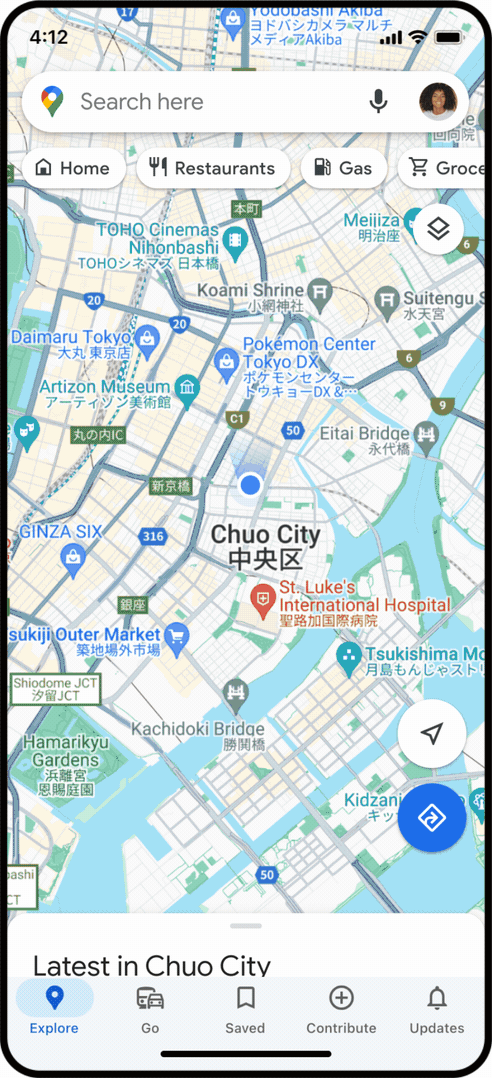 Source: Google
Thematic Search Results: When seeking suggestions for things to do, Google Maps provides better-organized search results to spark creativity. For instance, if you're in Tokyo and search for "things to do," you'll see themed suggestions like "anime," "cherry blossoms," or "art exhibitions." These thematic search results will be available globally on Android and iOS.
These AI-powered features in Google Maps aim to provide users with more detailed and immersive information, making navigation and exploration easier and more enjoyable.